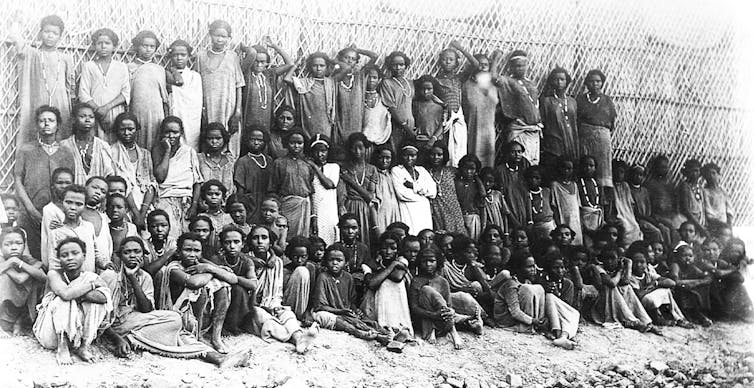 Fred Morton, Professor of History, University of Botswana
In September 1888, the HMS Osprey serving in the Royal Navy's anti-slave trade mission in the Red Sea, based in Aden, intercepted three dhows embarked from Rahayta and Tadjoura on the Ethiopia coast.
Aboard were 204 boys and girls bound for resale in Arabian markets. Other dhows with young human cargo were also apprehended. The children came from the highland area of Oromia Region of Ethiopia, and spoke the Oromo language.
They had been trekked as many as several hundred kilometres to the coast. The children were taken to Aden and, for a time, were housed and cared for at the Free Church of Scotland mission at Sheikh Othman.
The arrivals, however, were often too debilitated to withstand the harsh climate and prevalent malaria. In 1890, 64 of the survivors were transferred to the Free Church of Scotland's Lovedale Institution, in Alice, a town in South Africa's Eastern Cape.
The story is captured in a new book laden with graphs, maps, charts and statistics. But if you like your history as narrative, you'll have the job of piecing together this extraordinary story written by Sandra Rowoldt Shell in Children of Hope: The Odyssey of the Oromo Slaves from Ethiopia to South Africa.
Fate of Oromo kids
During the 10 years the children spent at Lovedale they proved to be good students and on good terms with their Xhosa-speaking and English school mates. Four in five survived and left the school as young adults in search of opportunities. They became teachers, shop assistants, carpenters, painters, cooks, clerks.
Most remained in South Africa, but 17 earned fares to Ethiopia. A few married and started families. One whose story is traced in the book is Bisho Jarsa who married former Lovedale student Reverend Frederick Scheepers. Their daughter Dimbiti married carpenter James Edward Alexander, and were the parents of South African liberation struggle veteran and academic Neville Alexander.