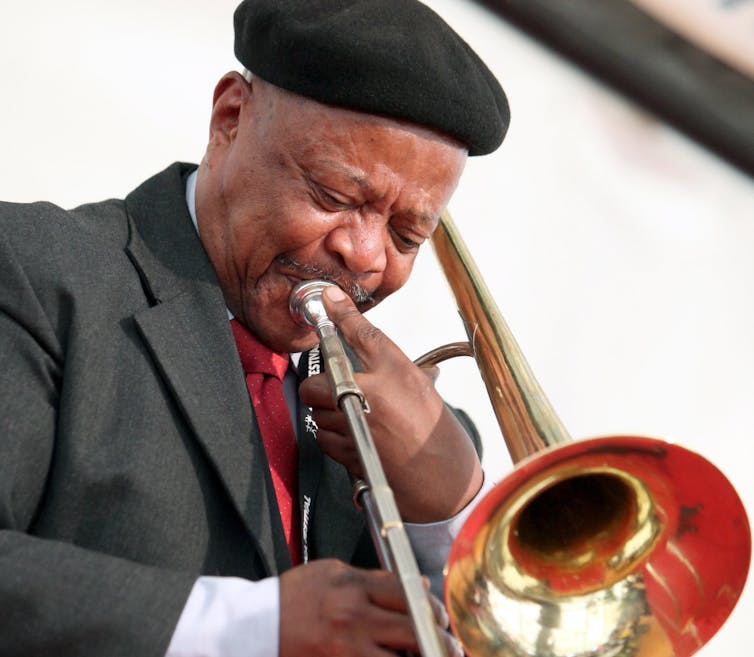 Gwen Ansell, Associate of the Gordon Institute for Business Science, University of Pretoria – 9 April 2018
Music galore marked the passing early in 2018 of two South African titans of culture, Poet Laureate Keorapetse Kgositsile and trumpeter Hugh Masekela. Notable at their memorial events were powerfully moving tributes by two veterans still living: Caiphus Semenya and Jonas Gwangwa. They have shared stages and the perils of exile with both.
Semenya and Gwangwa's histories raise a persistent question – why, given the scale of their achievements, are they not more famous? The answer may be rooted in the prominence of live performance over composition: everybody remembers the man or woman on stage. Fewer enquire about who wrote – let alone arranged – the song.
So the 80-year-old Jonas Mosa Gwangwa can command instant warmth and recognition on stage, singing or playing trombone. That music has won him friends and fans around the world. The democratic South African government acknowledged his role in, as they termed it, "singing down apartheid" with the Order of Ikhamanga (Gold) in 2010. But even the citation for that award omitted much about the scope of his work as composer, arranger and director of stage shows.
Gwangwa was born in Orlando East, outside Johannesburg in 1937. As a student, he became a founder-member of the influential Huddleston Jazz Band alongside Masekela. And, like his contemporary, he also moonlighted wherever there was band work – for example, in trumpeter Elijah Nwanyane's Rhythm Kings.

When American pianist John Mehegan visited South Africa in the late 1950s, Gwangwa was one of the improvisers with whom he chose to work.

Those and other collaborations led, in turn, to the 1960 release of the "Jazz Epistles, Verse One". It was the first LP released by black modern jazz players in South Africa. It also featured Kippie Moeketsi, Masekela, Dollar Brand (Abdullah Ibrahim) and more. As Gwangwa told me in my book Soweto Blues (2004):
Kippie got interested in both Hugh and I because we were attempting all those Charlie Parker things, and Kippie said: 'Oh, so you like this music? Come here, let me teach you…'
It was during the making of the Jazz Epistles album that Gwangwa began to compose:
I sat at the piano, messing around until I came up with this tune Carol's Drive… a style was being formulated, of course, only I was not aware of this… I was thinking that I could improvise so why can't I compose?

His music writing skills grew when he was engaged as a copyist and pit player for the famous musical "King Kong". When the production toured abroad in 1961, Gwangwa was one of many cast members who chose not to return to apartheid South Africa after the show's run concluded. He ended up with Masekela at the Manhattan School of Music in New York.
Gwangwa played a pivotal role in selling South African music to initially uninterested US audiences. He was arranger and orchestra director on Harry Belafonte and Miriam Makeba's 1965 Grammy winning album "An Evening with Makeba and Belafonte".

Over the following decade, he also had his own projects, touring with Masekela and Semenya in the band, Union of South Africa, alongside American jazz band, The Crusaders.

Gwangwa also released infectious Afro-pop with his band African Explosion
Politically meaningful
But, increasingly, the necessity to do something more politically meaningful with his music was becoming. As Gwangwa told me:
I figured that before I became an Americanised African, I have to go home and… grab a little kryptonite.
In the early 1980s he was summoned by the president of the then banned African National Congress (ANC), Oliver Tambo to assist with a group of young musicians in the ANC training camps in Angola who wanted to perform. The result was a musical, called Amandla!. With its slick, disciplined stagecraft, varied programming, comedy, dance routines and original as well as traditional and struggle songs, Amandla! was light years away from simplistic agit-prop.

The script-line was kept sharply up to date:
I always added or changed something to tally with whatever's happening inside the country.
Between tours, Gwangwa spent as much time as he could in the ANC's military camps, rehearsing, scouting new talent and sharing the risks. After a vehicle accident in Angola shattered his leg, he spent more time in Botswana, working with the Gaborone-based Medu Arts Ensemble. It was there that much of his best loved material was developed.
The physical perils of exile manifested tragically on 14 June 1985 when the South African Defence Force raided Gaborone, killing more than a dozen people, many connected with Medu. For weeks afterwards, unmarked vehicles with South African number plates spied on Gaborone. One hunted Gwangwa through the streets until he evaded it in the narrow alleys of an informal settlement.
Shortlisted for an Oscar
In 1987, Gwangwa worked with UK composer George Fenton on the soundtrack for the movie "Cry Freedom", based on the friendship between newspaper editor Donald Woods and civil rights activist, Steve Biko. The music was shortlisted for an Oscar and multiple other international awards, winning both an Ivor Novello and a Black Emmy award.

Although Gwangwa continued to perform – he played at both the 1988 Nelson Mandela Birthday Concert and the 1990 Mandela release concerts in London – that exposure opened additional doors to composing opportunities. Back home, by the mid-1990s his name was both a regular feature on music festival programmes, and a regular pop-up on film in composers' credits. Since his return home, he has released eight albums.
Although composing now dominates his time, Gwangwa is still a powerfully compelling live artist. It may be a cliché, but one that is sometimes true: Gwangwa's music at two memorial services for Kgositsile earlier this year – reprising songs that Medu veterans remember well from Botswana – really did not leave a dry eye in the house.

This article was originally published on The Conversation. Read the original article.